How to Make and Monetize Hyper Casual Games (The Smart Way)
This is an excerpt of the article that was recollected from flipboard, as to generate a clip of interesting news from the topics that i think are important and I want to save for further references and share with my readers. The original article is posted on gamedesigning.org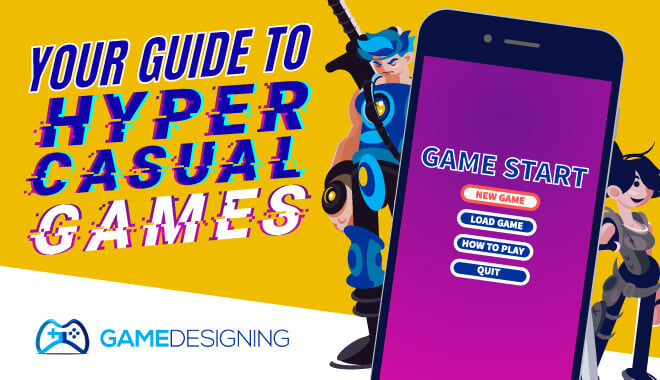 Hyper Casual Games 101
Hyper casual games have been trending for a couple of years now, google trends reflects on its graphs
While it may not seem like it, Hyper Casual (HC), is a genre that has been trending with a lot of strengh in the mobile platforms and slowly make a clear division line between the other casual genres, and the following article is very good at desconstruct in a very easy and understandable way,
For the most part, HC games are differentiated from Casual games by main taking out of the game design equation all the complexities that you can find and summarizing it to its barebone.
– Minimalist design
– Minimalist art
– One single mechanic that his replicated overtime.
The Growth of Hyper Casual Games
Arguably, the first-ever HC game revolved around a certain round yellow ball that we've all come to love: Pac Man.
Pac Man was a game you could spend a few minutes on or several hours, depending on how many quarters you had and if your parents were on the verge of killing you.
While it's true that the gameplay of Tetris is a little bit more complicated than Pac Man, it still falls under the Hyper Casual title.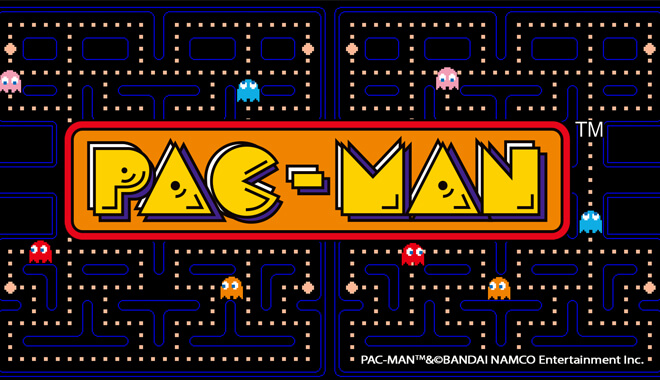 That was in 1980 and the next big identifier in the HC space didn't come for another 9 years in the form of another blocky friend; Tetris.
While it's true that the gameplay of Tetris is a little bit more complicated than Pac Man, it still falls under the Hyper Casual title.
That's mostly because little old grandmas who've been playing the game for 20-30 years now could beat you easily, a fact that makes it a very accessible game to boot.
Of course, it wasn't until the internet came in the 90s that casual games started flourishing. I'm sure many of you are familiar with names like 'Big Fish Games' or 'PopCap Games', all studios that became big with the birth of the internet.
Sites like Kongregate and Newgrounds became a heaven for those who wanted to play these games by hosting dozens and hundreds of these types of games.
As for Hyper Casual games themselves, 2017 is what could be described as the ascendency of Hyper Casual games. Unfortunately, it's impossible to pinpoint which game really catalyzed the modern Hyper Casual game market.
But either way, the past 2-3 years have seen a large rise in these games with oversimplified UI and mechanics.
On a side note, it's possible that this rise in HC games is due to millennials starting to hit their mid to late 30s and wanting to recapture the spirit of the games they used to play in the late 80's and 90's. That's just speculation though.
If you'd like to hear a bit more about the rise of hyper-casual games, check out 'What's The Hype with Hyper-Casual Games?'
The 20 Most Popular Hyper Casual Games
Of course, it's all well and good to talk about what hyper-casual games are in a general sense, but over here we want to give you a more direct sense of what we're talking about.

The list below denotes the most popular HC games and should, therefore, give you a good idea of what they are and what we're talking about.
That being said, by the time you read this there are probably already new games in this genre that have become popular due to the fact that the HC field is dominated by quick, iterative releases.
The top studio in this space, Voodoo, might have anywhere between 100 to 200 developers working on games for release.
Through Q1 2019 and the first part of Q2 2019, Voodoo released a whopping 15 games for a total of 771 million downloads.
Rise Up
Grass Cut
Helix Jump
Happy Glass
Hole.io
Paint Hit
Dodgeball Duel
Terrainium
Knife Hit
Sling Drift
Fireballs 3D
Flippy Floors
Swing Star
Flip rush
Speed Ball
Snake vs Colors
Gardenscapes
Hidden Folks
Geometry Slalom
Roller Splat!
Top Publishers of Hyper Casual Games
1. Voodoo:
---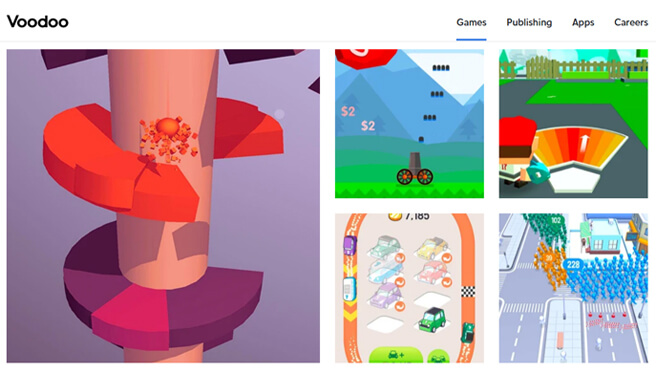 As mentioned above, Voodoo is the leading publisher in this genre with 771 million downloads in Q1 and Q2 of 2019.
Voodoo was established in 2013 by Alexandre Yazdi and Laurent Ritter. Their goal was to publish as many games on iOS and Android as they could.
With 15 games in the first half of 2019 alone, I'd say they've done pretty well on that goal.
2. Lion Studios:
---
The second studio from the top, Lion Studios has 308 mil downloads in Q1 and Q2 of 2019, less than half of Voodoo (which just makes Voodoo's spot even more impressive).
Interestingly, this studio was established by the app marketing platform 'AppLovin' as it's game-specific publishing division. While they don't solely focus on hyper-casual games, they have had quite a bit of success in that area.
Either way, the mission statement for Lion Studios is to be a one-stop-shop publisher for developers, so that they can focus on their game and not have to worry about everything else required to launch, sell and market a game.
3. Playgendary:
---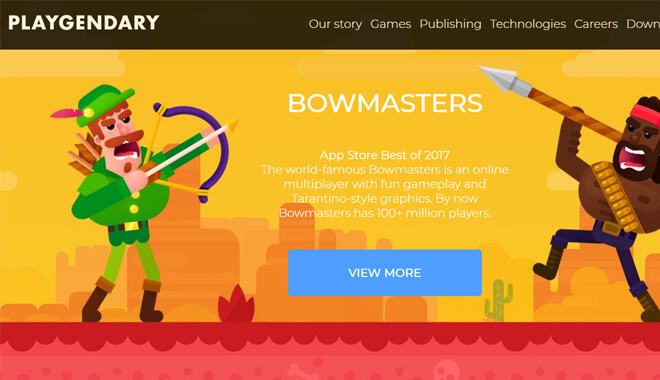 Established in 2016, Playgendary has grown to over 150 million players and 281 million downloads in the first half of 2019.
What really catapulted them to the top was their early success in 2017 with Bowmasters, a game where you try and hit people from far away by throwing things at them (it's actually quite fun).
They also had quite a bit of success with Dictator, Kife Rush and Kick the Buddy, both of which were popular but never reached the success of Bowmasters and its sequels.
4. Good Job Games:
---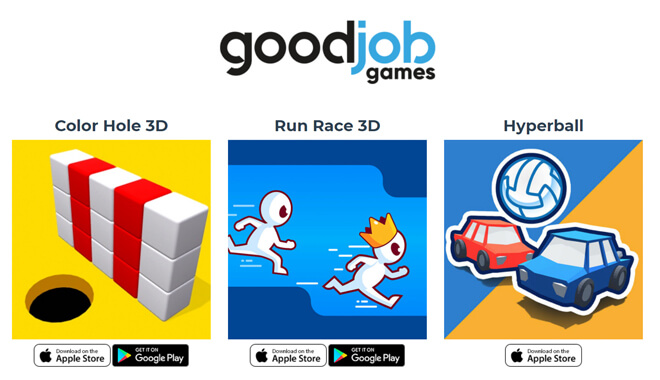 Starting out in 2017, Good Job Games has garnered a respectable 232 million downloads in the first half of 2019.
Their most popular game so far has been Color Bump 3D a game pretty similar to rise up where you try and protect a ball from barriers and obstructions in front of you. Some of their other popular HC games are Swing Star, Slices, and Run Race 3D.
5. Ketchapp:
---
Even this one isn't at the top of the list, it's probably got the biggest backer in the games industry: Ubisoft.
Founded in 2014 by two brothers, Ketchapp first became famous for their clone of the open-source game 2048. In fact, much like the rest of the publishers in this list, a lot of their popularity comes from making unlicensed versions of popular games by other developers.
Still, they've managed 225 million downloads in the first half of 2019, which isn't too bad.
Mechanics of the genre
1. Tap/Timing mechanics
---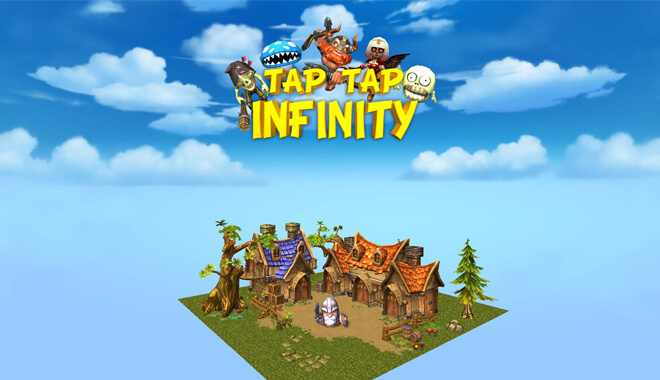 Tapping or timing is arguably the most common mechanic of hyper-casual games. Often this takes the form of tapping to get the perfect timing such as hitting the top of a bar or a ball rolling through the screen perfectly.
Most importantly, this mechanic relies on having a clear and concise UI without too much clutter so that the player doesn't feel that they are being cheated out of their score.
Ultimately, what compels players to play this type of mechanic is the drive for the top score, or at least a better score, which is leveraged against the average person's inaccuracy.
2. Stacking
---
An increasingly popular mechanic, this one builds on the player's previous taps, rather than clearing out the progress for a non-perfect click.
As the player progresses through the rounds, getting a perfect tap becomes more and more difficult until they inevitably fail or the level is complete. A good example of this is Ketchapp's Tower, with each layer of the tower being a tap and smaller than the previous layer.
This mechanic is meant to be a bit less punishing to the player, which should spur them on to play longer, and that in itself means more ad revenue. When designing a game around this mechanic, you want to aim for the player to have non-perfect clicks around 20%-40% of the time.
You should also try to balance the points of failure for your level so that the game tends to the easier, rather than the harder.
3. Growing
---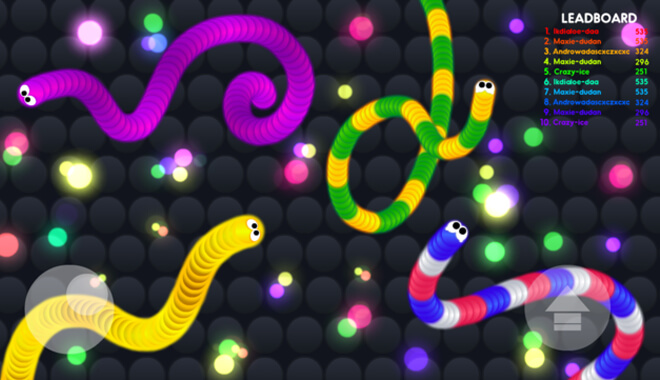 Somewhat similar to stacking is growing games, with the main difference being that the difference in size comes in length, rather than width. A perfect example of this game type is something like Snake and Hole.io.
If you're designing this for multiplayer, the most important thing to keep in mind is player density.
The difficulty is decided by the ratio between the number of players and the size of the map, so balancing this properly to maintain engagement while keeping it interesting is the name of the game (pun intended).
4. Swerve
---
This mechanic is almost the polar opposite of the tapping mechanic, as it relies solely on the player having constant control and their finger on the screen. Rather than focus on reflexes and dexterity, this mechanic relies on the player feeling direct control of whatever they are doing.

Size and speed should be adjusted for difficulty, with the main attraction being the player's feel for near misses and tight squeezes.
5. Rising/Falling
---
What makes this mechanic interesting is that it takes the player on a sort of visual journey. The focus is not so much on the next immediate problem, but the overall obstacles that are ahead. As such, difficulty is adjusted based on the piling up of small mistakes, rather than an outright failure.
While you can design each map to be its own standalone level, your players will find more engagement if you can combine all your maps seamlessly with natural pauses where players can rest and ads can be shown.
Most importantly, while luck does play a part in this mechanic, try not to make too overwhelming for your player, or else they may feel cheated.
6. Puzzle
---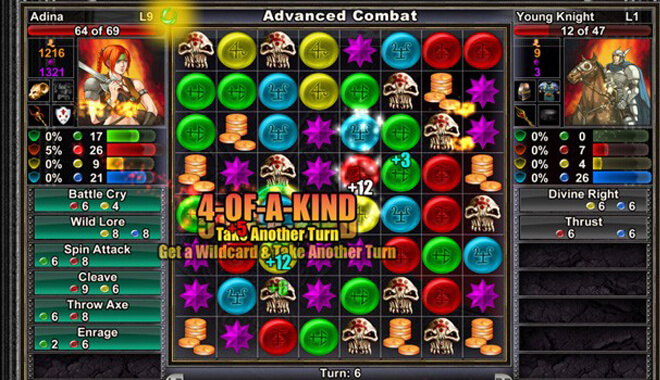 ….
The full article can be read from gamedesigning.org